Supranational Lab Supercharges Fight against TB in East Africa
In a high-security building in Kampala, Uganda, a man leads a group of sleuths investigating a potential killer. While they may go about their work with the meticulousness of police detectives, they are actually a different type of investigator. Professor Moses Joloba, Director of Uganda's Supranational Reference Laboratory, leads his team to pursue TB – the world's leading killer among infectious diseases. The disease killed more than 1.6 million people around the world in 2017.
Tuberculosis is an ancient disease, but it will take the best of modern diagnostic technology to end it as an epidemic. Some TB tests can be complicated and expensive, and require complex laboratory facilities, which are more sophisticated than what most clinics can offer.
Uganda's Supranational Reference Laboratory plays a pivotal role in bringing both tech and training to many countries. It is a "supranational" lab because it supports 21 countries across Africa to conduct complicated TB tests. It also supports the countries' national TB reference labs, guiding them to achieve WHO accreditation. With this work, Uganda is leading the charge in advancing health security in Africa.
"We serve as a demonstration site. This is peer-to-peer learning, where the countries that face the same challenges as we do can learn from us," says Joloba. "TB reference managers come here, we train them, we mentor them, and we challenge them. They go back to their countries motivated and empowered."
The work of the lab he manages is helping many countries in Africa to mount a strong fight against TB, while guiding them to build resilient and sustainable systems for health. Experts from the Uganda lab also visit other countries and support staff in their home laboratories.
The program is a partnership between the Uganda National Tuberculosis Reference Laboratory, the East, Central and Southern Africa Health Community (ECSA), and the Global Fund:. the Global Fund provides the funding, ECSA serves as the principal grant administrator, and the Uganda national TB lab runs the operations of the laboratory. Together, this partnership – which brings together technical, financial and logistics expertise – is transforming the fight against TB in Africa.
The Uganda lab achieved the status of supranational reference laboratory, making it the third such facility in Africa, after labs in Algeria and South Africa. In the five years since the Uganda lab achieved accreditation, it has built a strong network of labs in the region, improving services, providing technical support and training lab technicians across the region.
The countries currently supported by the Uganda lab include: Kenya, Eswatini, Somalia, Eritrea, Tanzania, Mauritius, South Sudan, Angola, Rwanda, Namibia, Zambia, Zimbabwe, Botswana, Seychelles, Mozambique, Malawi, Burundi, Lesotho, Liberia and Djibouti.
Four of these countries – Mozambique, Tanzania, Namibia and Kenya – have now reached WHO accreditation status.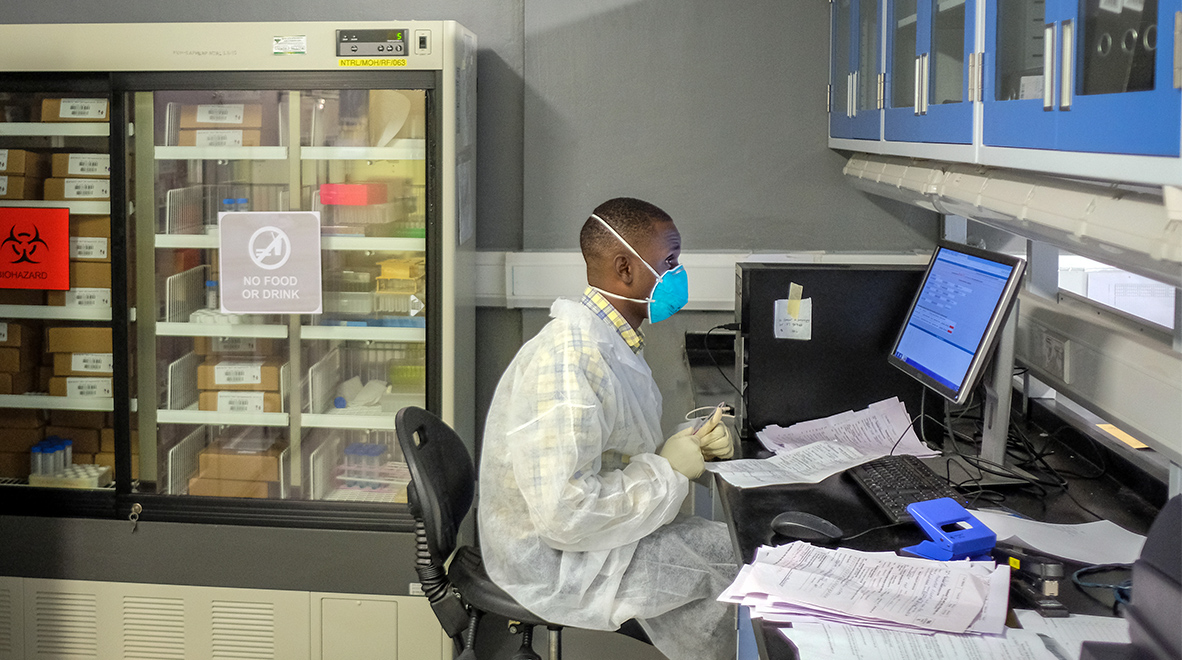 With that success, the work of receiving and testing samples from countries has declined. More labs in the region can stand on their own, and do their own tests in their own countries. Today, only about 10 percent of samples tested in the lab come from outside Uganda. It is a development that pleases Joloba.
"We are happy more countries are gaining full capacity to conduct their own tests," says Joloba. "We want to get ourselves out of the business of testing samples from other countries. Our target is to mentor these countries to be independent of us."
The Permanent Secretary in the Ministry of Health in Uganda, Dr. Diana Atwine, has great praise for the work of the lab and its personnel. "The TB lab is not only giving us super-specialized services, it is also spreading the best practices across East Africa and beyond," says Dr. Atwine. "They have mentored lab workers in this country and across the region. They are offering first-class services, training and research."