Conquering HIV Again
Goodness Mbatha and her daughter Nqabile have a kinship that goes well beyond a maternal-child bond. They share a remarkable story, one that mirrors the incredible progress and steep challenges of the fight against HIV in South Africa, where they live. As a teenager, Goodness was an altruistic student who often donated blood, as a way to help others. But at age 19, she was raped. It was horrific, and the aftermath got worse. When she gave blood again at a transfusion center, a staff member told her that her blood could not be used anymore, because she was infected with HIV. When she saw a doctor, she also discovered she had gotten pregnant from the sexual assault. The news was devastating.
"I was told I had three years to live," Goodness says. "It felt like the end of the world. I was so empty."
It was 1998, and being infected with HIV was like receiving a death sentence. Access to HIV treatment in South Africa and many other African countries was very low. HIV treatment cost more than US$10,000 a year, and the leadership of South Africa was rejecting the science of antiretroviral treatment, letting people die. AIDS seemed unstoppable. Goodness had no hope, for herself or for her unborn child.
She lost that baby through miscarriage. She felt desolate. It was an extremely difficult time in her life. But she gradually recovered. Eventually, she started dating again, and when she became pregnant again at 23, it gave her hope. At that time, activists in South Africa had pushed the government to act, and with support from international funders, South Africa started to deliver HIV treatment to those who needed it. Goodness got treatment to prevent her baby from getting HIV. She felt determined to do everything within her means to protect her baby.
"With the baby, the hole inside of me was filled," Goodness says. "My life started to change."
In 2002, the baby was born without HIV. She named her Nqabile, meaning "conquer," to depict the odds they had overcome. Other follow-up tests confirmed the baby had not been infected with HIV. Still, she needed to wait until the baby was 18 months for the test that would confirm the baby's HIV status.
"I was unable to go hear the doctors announce the results, I would send my mum," Goodness says. "And each time she would come back with good news."
Today, Goodness is raising a teenager who is healthy and vibrant and a leader in her own school, where she is helping others to stay focused on their health and safe from HIV. At 16, Nqabile and her peers, including those who were born HIV free through programs to prevent mother to child transmission of the HIV, again face a high risk of being infected with virus.
In sub-Saharan Africa, adolescent girls and young women are twice as likely to be infected with HIV than their male counterparts, and in the worst-hit countries, up to six times as likely. In South Africa alone, nearly 200 young women and girls are infected with HIV every day.
Goodness is determined to once again support her daughter to stay free of the virus. For her, that starts with providing Nqabile with the information and knowledge she needs. Like the day when Goodness told her the story of how she was infected with HIV, which was very moving. "I felt more in love with her," says Nqabile.
Nqabile is thankful that her mother is supportive and open with her, giving her sexual and reproductive health education she does not get in school. She hopes to start a club, where she can share the knowledge she gets from her mother with other young girls in her school and beyond.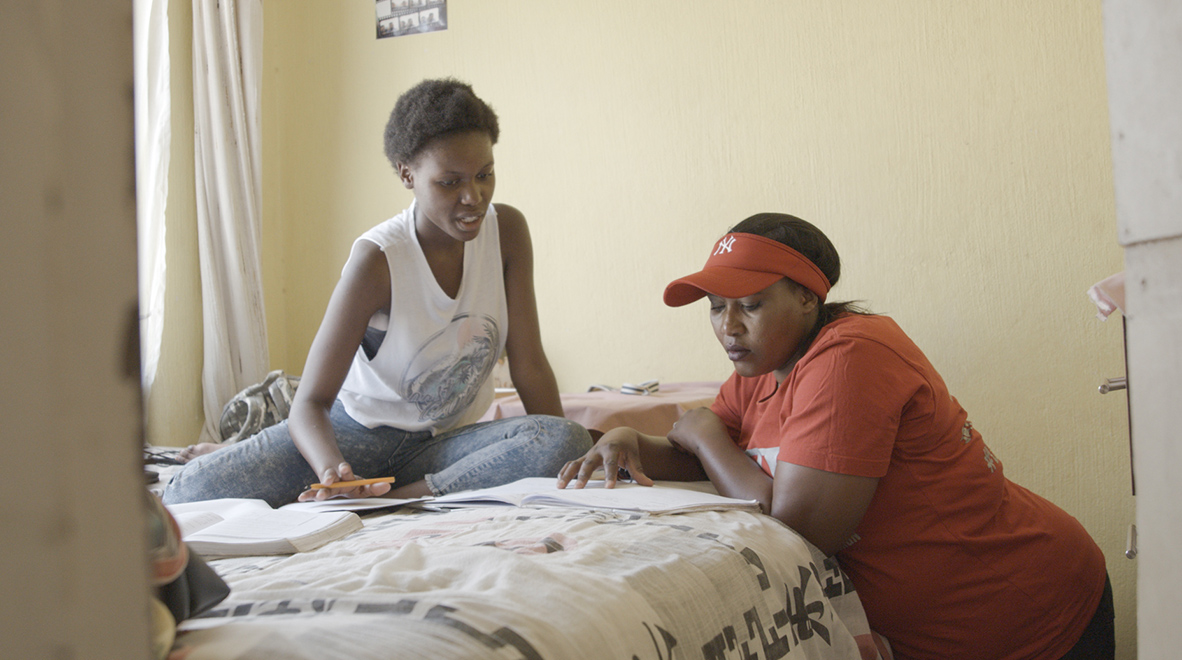 "I feel so blessed and lucky that mum tells me everything," Nqabile says. "Many girls don't often communicate well with their parents."
To support Nqabile and her generation to once again defeat the virus that many of them conquered as kids, the world needs to step up the fight against the virus affecting the generation. The Global Fund partnership is investing in programs that challenge harmful gender norms, discrimination, and violence against women. Support from mothers like Goodness is vital to achieving that goal.
More important, young women and girls need support to have agency to make informed decisions about their lives.
"Girls want to finish school, to become successful," Nqabile says. "I want to fulfill the dreams that my mum couldn't reach. I also want the best for other girls my age."