Uganda's Remarkable Response to COVID-19
When a storm hits, it helps for your house to have a strong foundation.
The Global Fund has been investing in strengthening systems for health over the last two decades, because without a good foundation, we cannot end diseases.
One year ago, in March 2020, Uganda reported its first cases of COVID-19. As news of the pandemic travelled across the globe, COVID-19 appeared more like a hurricane than a storm. But the health infrastructure invested in over the years in Uganda has held fast. This country of over 44 million people has recorded relatively low COVID-19 numbers: 40,593 cases of COVID-19 and 334 deaths since the beginning of the pandemic in 2020. Considering the dire situation in many countries and the fact that the virus has killed over 2.6 million people worldwide, Uganda has been very successful at fighting COVID-19.
Uganda achieved that feat by swiftly deploying health systems and community responses created to fight other infectious diseases, including HIV, TB and malaria. A robust network of laboratories and surveillance systems combined with well-trained human resources, including over 150 trained field epidemiologists spread all over the country, enabled the successful rollout of testing, which is the first line of defense against COVID-19.
Testing for COVID-19 is done through antigen rapid diagnostic tests (Ag RDTs) and polymerase chain reaction (PCR) tests, which require laboratory facilities to be carried out. Fortunately, Uganda was well prepared to accommodate this. "We have strong laboratories built over the years with support from partners," explains Uganda's Minister of Health, Dr. Jane Ruth Aceng. These partnerships, including with the Global Fund, were critical in the response to COVID-19. With support from partners and the Global Fund's investments over the years, Uganda has built a good laboratory system with a network of hubs that covers over 97% of the country. In addition, the country has a strong centralized testing capacity, including through the Central Public Health Laboratories (CPHL), the Uganda Virus Research Institute, and the country's WHO-accredited Supranational Reference Laboratory.
The Global Fund's support for the national response to COVID-19 epidemic in Uganda was swift and significant, disbursing US$51,935,105 of additional funding for their COVID-19 response and supporting Uganda to use US$10,510,356 in existing grant savings. The Global Fund enabled countries like Uganda to use grant savings and reprogramming to rapidly adapt existing HIV, TB and malaria programs, purchase personal protective equipment (PPE) for front-line health workers, diagnostics and medical supplies, and to deploy prevention campaigns. Thanks to this intervention, Uganda's Ministry of Health was able to immediately turbocharge the fight against COVID-19 and order diagnostic tests procured by the Global Fund. "Uganda has built very strong partnerships over the years, including partnerships with the Global Fund, and you came in well on time to support the response in Uganda," says Dr. Aceng.
When COVID-19 hit, Uganda's Ministry of Health responded quickly by setting up a national response team, including a committee that was charged with streamlining laboratory coordination and the management of response efforts for COVID-19.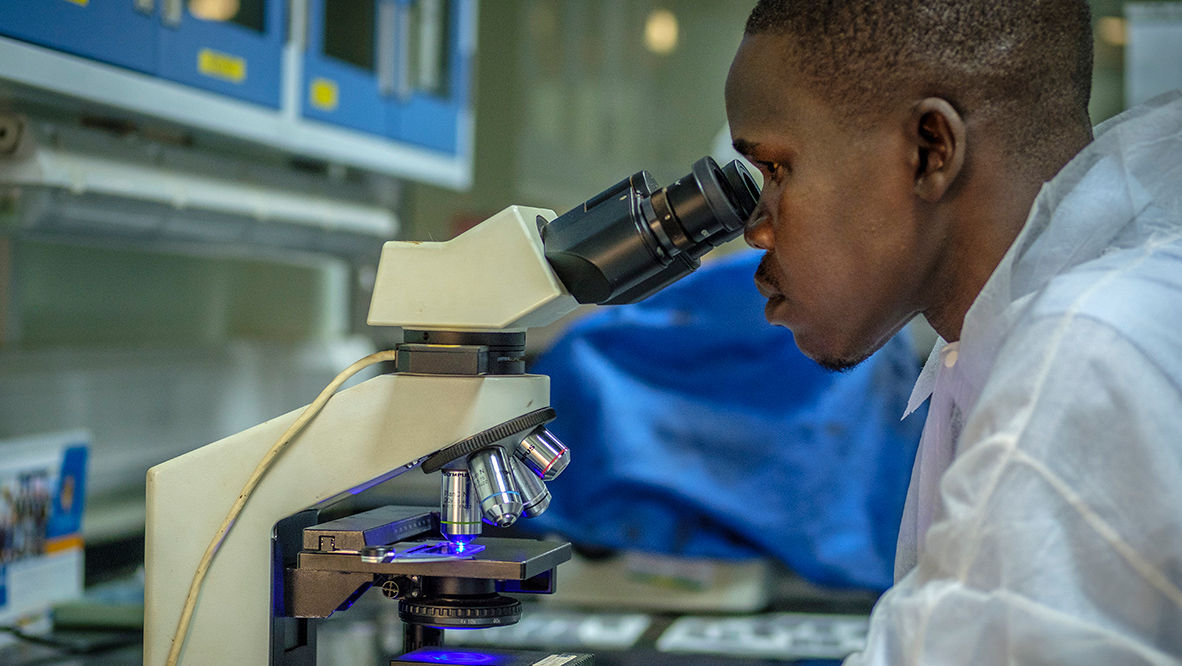 The Global Fund has so far delivered 283,000 PCR tests and 338,000 Ag RDTs to Uganda. Confronted with the fast-spreading virus, the country's Ministry of Health embarked on decentralizing laboratory testing to respond to the testing needs across the country, while ensuring continued provision of other essential health services. This was crucial to make sure that communities across Uganda had access to prevention and diagnostics services. Three COVID-19 testing laboratories were also established at crucial points along the border with Tanzania, Kenya, and South Sudan, to shorten turnaround time and to improve cross-border surveillance of the virus. Decentralizing these lab services allowed for wider coverage of testing across Uganda, which meant more people had access to tests.
By using and leveraging the existing health systems and diagnostic infrastructure in place, Uganda was able to improve access to COVID-19 testing. For instance, the existing transport system for samples for other diseases is now also used for COVID-19 samples. Testing systems in place for tuberculosis such as GeneXpert are able to detect COVID-19, and so health facilities are doing what is known as multiplexing – testing for multiple conditions in a single molecular diagnostic test procedure. The existing data management system is also being used to report COVID-19 cases and track testing.
However, the fight is not yet over. "We are worried about the potential for a second wave," explains Dr. Aceng. "In preparation for that, we will need more PPE, because experience from other countries has shown that usually the second wave is more aggressive than the first wave. We need test kits readily available, and not only available at the center but also available in all parts of the country."