In Eswatini, young women are leading the fight against HIV and COVID-19
Eswatini may be a small country, but it has put up a mighty fight against HIV. It has one of the highest prevalence rates of HIV in the world, but thanks to engaged political will and coordinated work with partnerships like the Global Fund, Eswatini has already reached the '95-95-95' global HIV target set for 2030. This means that 95% of people living with HIV in Eswatini know their status, that 95% of people who know their HIV-positive status are accessing treatment and that 95% of people on treatment have suppressed viral load.
But when COVID-19 hit, it suddenly placed Eswatini's impressive momentum against HIV at risk and threatened to pose an even mightier challenge. In Eswatini, HIV prevalence is significantly higher among adolescent girls and young women than their male counterparts. But in 2020, strict lockdowns to stop the spread of COVID-19 meant that critical HIV prevention sessions for adolescent girls and young women could no longer be conducted face-to-face in the communities. In addition, people could no longer access their medication, schools were closed, and the lockdowns made it difficult to access sexual and reproductive health services, including contraceptives, resulting in high rates of teenage pregnancy.
To make things worse, COVID-19-induced poverty exposed adolescent girls and young women to vulnerable situations, and these instances could possibly lead to intergenerational transactional sex – where young women and girls have sex with older men in exchange for gifts, money or food – which is a major driver of HIV infections in the country. Reports of gender-based violence significantly increased too.
"During the strict lockdowns, an increased number of teenage pregnancies was reported nationally," says Nomathemba Siboza, a programs officer at the Coordinating Assembly of Non-Governmental Organizations, known as CANGO. CANGO works directly with civil society and community organizations in targeting the hardest-to-reach and most vulnerable populations in the fight against HIV.
Nomathemba coordinates risk reduction sessions for adolescent girls and young women out of school to help them become knowledgeable, empowered and assertive enough to prevent HIV infection. These sessions are led by peer educators, who are mostly young women in the communities. They provide education and information around HIV risk reduction, and access to sexual and reproductive health commodities and services, including referrals to health services to get tested for HIV. The sessions also offer next steps, such as supporting girls to return to school or to develop vocational training skills to guide them to economic independence.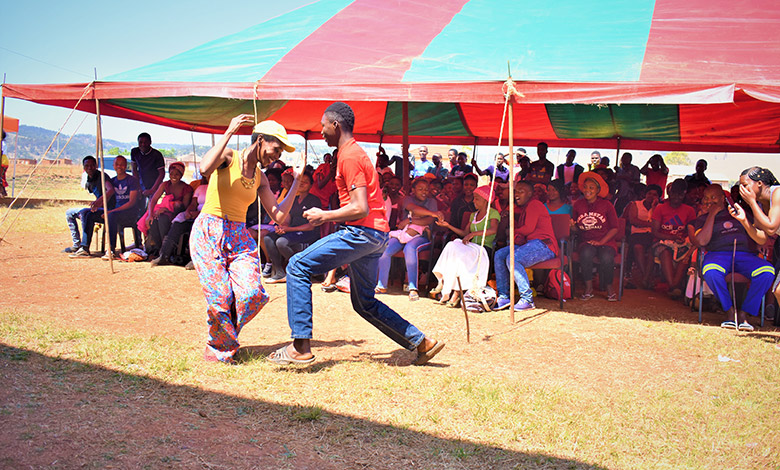 Adolescent girls and young women are disproportionately at risk of contracting HIV. According to UNAIDS, in sub-Saharan Africa:
Six in seven new HIV infections among adolescents aged 15–19 years are among girls.
Young women aged 15–24 years are twice as likely to be living with HIV than men.
In 2020, women and girls accounted for 63% of all new HIV infections.
And around the world:
Adolescent girls and young women are at considerable risk of gender-based violence. More than one in three women around the world have experienced physical and/or sexual violence by an intimate partner or sexual violence by a non-partner at some time in their lives. In some regions, women who have experienced physical or sexual intimate partner violence are 5 times more likely to acquire HIV than women who have not experienced such violence.
When COVID-19 hit, Nomathemba knew that it was crucial that adolescent girls and young women continue to receive HIV prevention services through the organized sessions. They could not lose momentum and put an already vulnerable population further at risk.
Faced with the challenge of providing services in lockdowns, CANGO and the communities with whom they work rallied together to adapt the programs and ensure that adolescent girls and young women were not left behind. With grant support from the Global Fund's COVID-19 Response Mechanism (C19RM), Nomathemba and her team moved to provide the risk reduction sessions for adolescent girls and young women online.
CANGO coordinated with implementing partners and the community peer educators to develop an HIV prevention curriculum to reach adolescent girls and young women remotely. To spread the word, they embarked upon an extensive mobilization strategy, including reviewing their databases, reaching out to participants over the phone, placing posters in community buildings, and using social media recruitment strategies.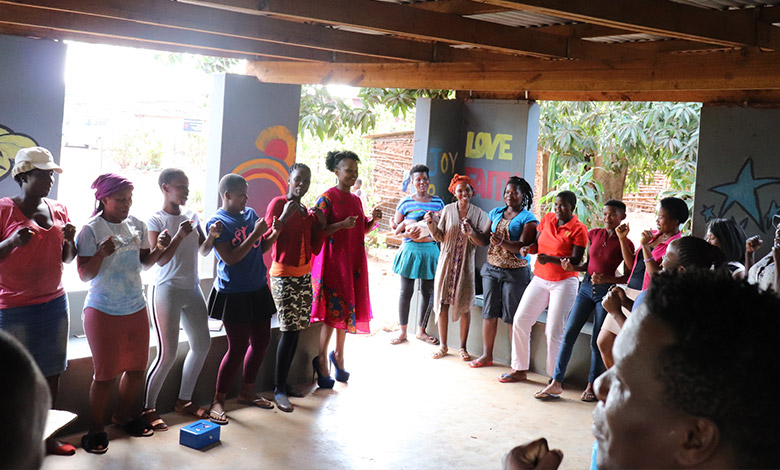 The sessions were delivered online through conference calls which participants could listen to free-of charge through mobile phones. The sessions covered important topics such as HIV prevention and testing, sexually transmitted infections, contraception, gender-based violence, and COVID-19. "These sessions are very engaging," says Nomathemba. "Sometimes the sessions would last longer because the adolescent girls and young women would be asking lots of questions. It was a good strategy."
As the lockdowns lifted and restrictions were relaxed, the risk reduction sessions were able to be conducted face-to-face in smaller groups, with masks, hand sanitizer and temperature checks to protect the participants. More importantly, the innovative way in which the program adapted means that "when the strict lockdowns come again, we go online, so we are kind of moving between both face-to-face and online depending on the levels and restrictions that we are having as a country," says Nomathemba.
The Global Fund has partnered with Eswatini since 2003 and has disbursed US$292,374,647 to fight HIV, TB and malaria, and strengthen resilient and sustainable systems for health. In addition, through our COVID-19 Response Mechanism, the Global Fund provided an additional US$5,184,666 in 2020 to support Eswatini to fight COVID-19, adapt HIV, TB and malaria programs, and strengthen systems for health. To learn more about Eswatini's fight against HIV, TB and malaria, visit the Data Explorer.