Indonesia's Top TB Crusader Reflects on the State of the Fight
From massive progress to COVID-19 devastation and beyond
Dr. Erlina Burhan has treated tens of thousands of TB patients over her 30-year long career.
One patient she will never forget is An Biya Nur Melani. An Biya was just 17 years old when she was diagnosed with multi-drug resistant tuberculosis (MDR-TB). She was the first child with MDR-TB that Dr. Burhan and her team treated at Jakarta's Persahabatan National Lung Hospital.
"There are many challenges with treating children with MDR-TB," says Dr. Burhan. "At the time, the treatment regimen was only for adult patients. So, we had difficulty defining the dose of the drug and how to make it suitable for her age and her body weight. But she was really very strong."
After 18 months of grueling treatment and traveling more than two hours every day to the hospital – An Biya recovered.
Now 25, An Biya is featured on the cover of the Global Fund's 2021 Results Report. She is one of the estimated 44 million people whose lives have been saved through the Global Fund partnership over the last 20 years.
Investments in Indonesia's TB fight make significant impact
Throughout the history of the Global Fund, Dr. Burhan has been spearheading Indonesia's fight against TB. Her clinic has treated MDR-TB patients ranging in age from 8 months to 80 years old. And although Indonesia is estimated to have the third highest number of TB cases globally, the country has made significant progress.
Dr. Burhan remembers that prior to Global Fund investments in 2009, there were only two hospitals in the country that treated MDR-TB patients, with the capacity of only 50 patients each. Eleven years later there are now about 250 sites that can provide such care.
Between 2010 and 2018, TB treatment coverage - the number of people found, diagnosed and treated - nearly doubled in Indonesia from 36% to 67%. While TB deaths still remain far too high, they decreased during the same time period from around 112,000 annually to 92,000.
Lifesaving medicines are now more accessible and less expensive while laboratories are better equipped and health workers are better trained to provide successful tracing, testing and treatment.
But like everywhere in the world, COVID-19 has been devastating for the fight against TB in Indonesia.
COVID-19's catastrophic impact on the fight against TB
For the first time in the Global Fund's history there has been significant declines in key TB programmatic results. For example, the number of people tested and treated for TB dropped by 18% or around one million patients between 2019 and 2020.
In Indonesia the numbers have been bleak. TB case notifications dropped by 43% from 467,000 in 2019 to 267,000 in 2020.
Dr. Burhan has seen this firsthand.
"The decrease [in patients] is even 50%. Meaning that there are people out there with TB symptoms but not coming to the hospital. This means that probably they are now a source of infection," she says.
Dr. Burhan explains that she and her team have also observed a significant increase in the number of "lost to follow-up patients" or people diagnosed with TB who have stopped treatment and are no longer in contact with the hospital. These patients are particularly vulnerable to developing MDR-TB.
Like many places, local health systems have had to shift resources from fighting TB to fighting COVID-19. Health workers at TB clinics now treat COVID-19 patients and laboratories testing for TB have had to also provide COVID-19 testing.
Even Dr. Burhan has had to re-shift her focus. She was appointed head of her hospital's COVID-19 Commando Team and has been closely involved in developing national policies in response to the pandemic.
"Our time is mostly for COVID right now because the patients never stop coming."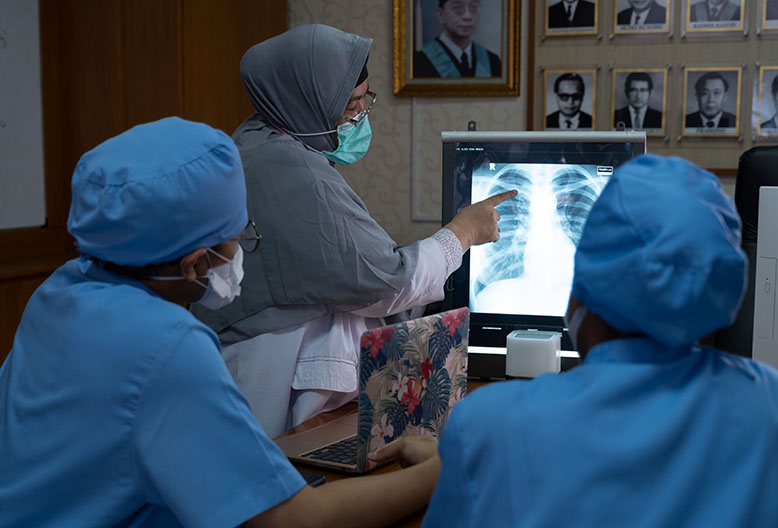 The COVID-19 'silver lining'
The Global Fund responded rapidly to COVID-19 and had approved US$3.3 billion to support more than 100 countries fight the global pandemic as of August 2021.
In Indonesia, funding from the Global Fund's COVID-19 Response Mechanism has been used to support integrated chest X-ray screenings among high-risk populations to identify TB patients. Funds also support community health workers to offer home-based TB services such as delivering medicines to patients' homes, supporting patients through their treatment, and testing household contacts.
Dr. Burhan says she sees a 'silver lining' as many of the health protocols to protect people from COVID-19, such as testing, tracing, hand washing and social distancing, also protect people from TB. And that the pandemic has resulted in her team maximizing the benefits of technology in the fight against TB such as using video calls to monitor patient's treatment.
"We have to make sure these positive things developed for COVID are also used in the fight against TB," she says.
Dr. Burhan says that most importantly, COVID-19 proves how quickly progress can be made in the fight against a deadly infectious disease when the world joins forces.
"With COVID, everything developed in a very short time – in less than a year we have a vaccine. I think we can do it for TB as well – now is the time."